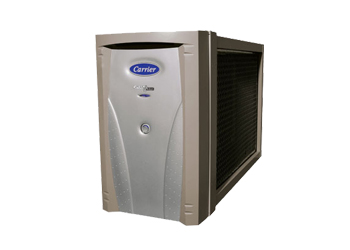 Carrier Infinity Gapa: Merv 15 Air Purifier
Traps and Kills Air Pollutants: Purifies, Doesn't Merely Filter
The award-winning Infinity Air Purifier doesn't just filter air, it captures and kills airborne pathogens such as bacteria, viruses and mold. This whole house air cleaner re-purifies indoor air as many as 8 times an hour.
Performance
Filter efficiency: MERV 15
Capture rate: 95% of particles down to .3 micron size
Germicidal rate: 99%
Low airflow resistance
Patented True Sense™ dirty filter detection available with Infinity control
Technology
Patented Captures & Kills™ technology
Recommended control: Infinity control
Sizes
Furnace sizes: 1625: 18.5″H x 11.125″W x 25.25″D 2025: 22″H x 11.125″W x 25.25″D
Fan Coil sizes: 1620: 18.625″H x 13.125″W x 22.25″D 2020: 22.125″H x 13.125″W x 22.25″D 2420: 25.5″H x 13.125″W x 22.25″D
Installation
Flexible installation: upflow, downflow or horizontal flow furnaces and fan coils
Requirements:
120v (furnace model) 230v (fan coil model)
Aesthetics:
Heavy-gauge steel cabinet pre-painted in taupe metallic
Compare To Other Products :
Carrier reserves the right to discontinue or change any specification or design without prior notice or obligation.
MERV 15 Efficiency
Captures and kills airborne germs and allergens
Exclusive, patented technology
Whole home air purification
10-year parts limited warranty when properly registered/li>