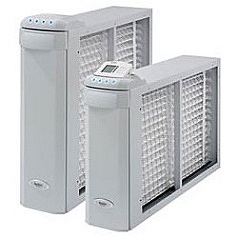 Whole-house Media Air Cleaner With One Touch Control
If you want whole home air cleaning that "couldn't be easier", the 4000 series with active control is the clear choice. These high performance air cleaners with user friendly allergen and irritant control right at your fingertips provide superior cleaning benefits and proven results.
Aprilaire conducted research with homeowners just like you, and discovered that when it came to air cleaners, active control and confidence were paramount. They developed the only visible whole-home Air Cleaner Control on the market.
Mounted in your living space or on the installed air cleaner, you'll feel confident in knowing that your air cleaner is working to keep every room in your home clean and comfortable.While other air cleaners are simply "on" or "off," Aprilaire gives you unprecedented control.
Is it allergy season? Are you having a party? Does someone in your family suffer from asthma? These are all factors that impact when and how often you might want the air in your home cleaned. That's why the 4000 Series Models' control, offers four different cleaning modes to put you in charge.
Compact, great for use with today's shorter furnaces in platform or closet installations
Removes 97% of pollen, airborne dust and other large particles
Permanently traps indoor allergens that can lead to respiratory problems
Visibility and control allows you to monitor and control the air cleaner function through the home from a single, central location
Simple maintenance just replace the filtering media once per year
Constant Cleaning – Runs 24 hours a day, seven days a week. Perfect for homes with pets or individuals who suffer from year-round allergies or asthma
Automatic – An every-day setting that removes mold spores, bacteria, allergens and even viruses from the air from 30 minutes every hour
Event Clean – A great setting for parties or when visitors bring animals, smoke or other irritants in the home, Event Clean gives you a three-hour burst of cleaning
Allergies – For those days when pollen counts are high, this setting runs for 24 hours straight, then turns off