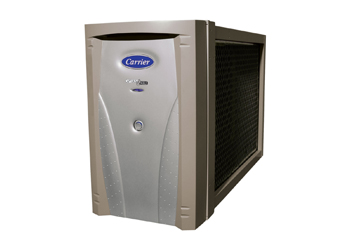 Carrier® Infinity – GAPAAXCC2025 20″ x 25″ Air Purifier for Furnace 2000 CFM
The Infinity™ Air Purifier is designed for use in the return air duct of a forced air heating, cooling, and ventilation system. Models GAPAAXCC1625 and GAPAAXCC2025 are specifically designed for use in systems with a forced air gas furnace and are intended to be powered by 115v/60 Hz.
The Infinity™ Air Purifier both captures and kills airborne viruses, bacteria, mold spores, and allergens. It combines superior filtration efficiency MERV 15, with pathogen-killing technology to deliver maximum air purification.
The Infinity™ Air Purifier offer worry-free operation, requiring no cleaning. Maintenance is limited to the periodic replacement of the special media cartridge.
Features/Benefits
Performance: Ultra-high efficiency MERV 15. Captures and kills airborne viruses, bacteria, and mold spores.
Simple: Virtually no cleaning required. Simply change purifier cartridge periodically.
Easy to Install: Three distinct cabinet sizes help to ensure a perfect fit to the bottom and side of most Carrier® furnaces.
Application Possibilities Unit can be installed in a horizontal or vertical position, which makes it equally adaptable to horizontal, downflow, or standard upflow applications.
Solid: State Power Supply—Power supply is a highly reliable state-of-the-art, solid-state, high-voltage device.
Durable Cabinet: Heavy-gauge steel cabinet supports up to 400 lb. when installed beneath an upflow furnace.
Agency Listed: Model GAPA Air Purifier is CSA (Canada and US) listed.