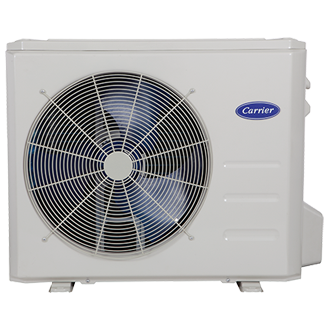 Cooling Efficiency : Dependent upon outdoor unit pairing
Heating Efficiency : Dependent upon outdoor unit pairing
Comfort Features : Better
Standard Feature
Sizes: 09 / 12 / 18 / 24
Available in 115V and 208/230V
Auto-restart function
Turbo Mode
Four fan speeds
Sleep Mode
Follow Me (senses temperature at handheld remote)
Heating Setback (46° F Heating Mode)
Up-down louver control (fixed or swing)
Filter is removable from the top
Improved serviceability with easy access to fan and electrical connections
Quiet indoor operation, as low as 27 decibels1
Aluminum Blue Hydrophilic pre-coated fins
10-year parts limited and 10-year compressor limited warranties to the original purchasing owner upon timely registration2
1 Quietest size within each model group during low fan-speed operation
2 If properly registered within ninety (90) days after original installation, parts are warranted to the original purchaser for a period of 10 years. Otherwise, parts warranty is 5 years. For other applications a 7-year parts and 7-year compressor limited warranties apply. See warranty certificate for details.
Performance
Quiet indoor operation, as low as 27 decibels1
Capacities
Requirements
Aesthetics
Attractively styled, high−impact polystyrene.
1 Quietest size within each model group during low fan-speed operation
ComfortTM Series ductless heat pumps are designed with your budget in mind.
The ideal blend of affordability and effectiveness, our ComfortTM Series 40MHHQ High Wall Ductless indoor unit is a solid choice for heating and cooling a new or converted space. Compatible with either a single or multi-zone ductless heat pump, it offers the convenience of a temperature-sensing handheld remote and customized control over your comfort with four available fan speeds and louvers that can either move or remain stationary.